Beliefs
"I appeal to you . . . to contend for the faith which was once for all entrusted to the saints." Jude 3b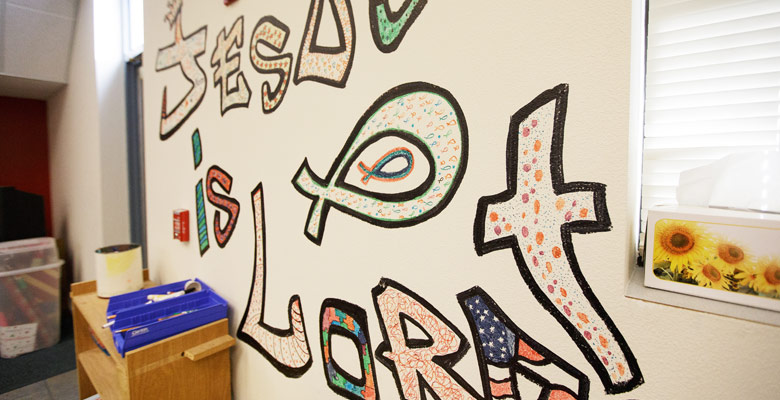 At Spokane Valley UMC we teach, preach and try to live what most every Christian everywhere believes. We believe in God-through-Christ, we love people, and we enjoy being together to do things for God – things which spread God's love and help people.
A Pulpit for God's Word
We preach and teach the Bible. We tend not to quibble over Bible interpretation or theology in our church. We encourage everyone to think things through for themselves. Our pastor is seminary trained, but it's no problem for us if you disagree with the pastor, or if you love what he says. Our authority is Jesus Christ and his love for all. People in our church have many different perspectives on politics and on cultural issues. Things that tend to divide Americans can be found in all shapes and sizes here, but they do not to become an issue. We think and let think. Our pulpit is for God's Word of grace, peace, and justice – but not for partisan politics. We're learning to say: "All people are welcome here. The only people who aren't welcome here are the people who oppose this: that all people are welcome here."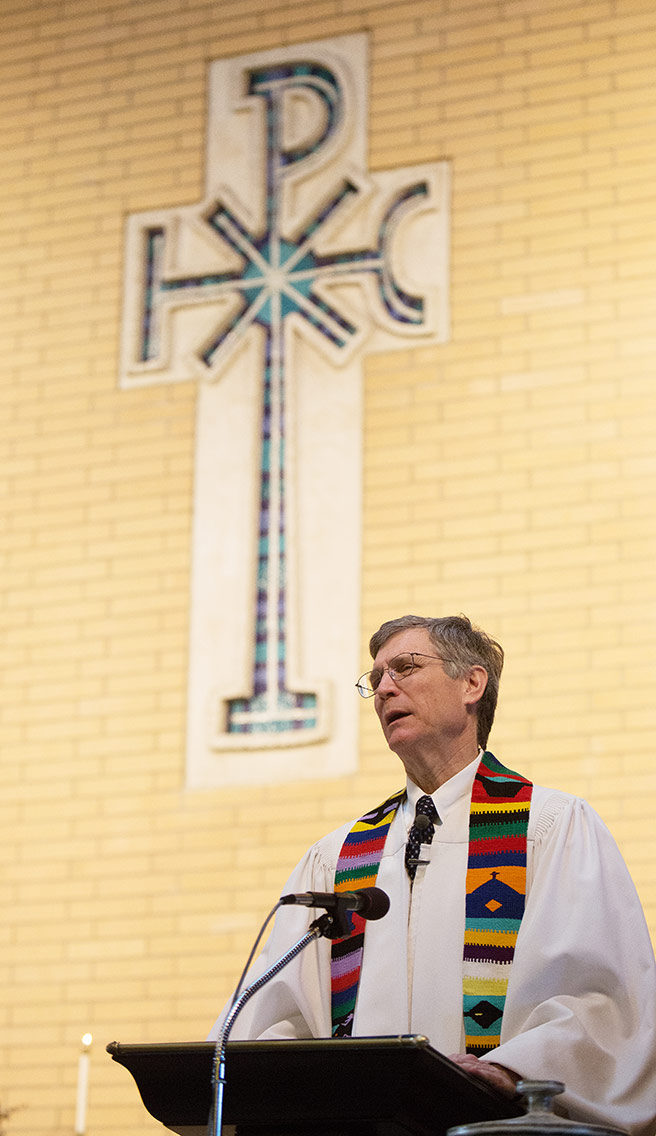 United Methodist Churches like Spokane Valley are not known for one particular doctrine emphasized over others, or one particular worship practice. Our foundation is the Trinitarian faith which was agreed upon and believed during the first 1000 years of Christianity, even coming into the 21st Century much the same as was then. We hold to 25 Articles, or points of Christian Doctrine – succinctly stated, and you can find them here:
---
Christian, Trinitarian, Protestant, and Wesleyan
A United Methodist Church is a Protestant Church. "Protestant" refers to the movement which officially split off from the Roman Catholic Church during the lifetime, and because of the leadership of Martin Luther (1483-1546). Our denomination was born out of the Church of England, the "Anglican Church"— which started in England in the 16th century – and continues in England to this day. In the United States the Church of England is a separate denomination known as the "Episcopal Church", and in Canada it is the "Anglican Church".
The Church of England was from the beginning a hybrid, or synthesis combining the theology of Martin Luther with the theology of the Roman Catholic Church. The great book of the Church of England, "The Book of Common Prayer", written by Thomas Cranmer (1489-1556), settled this beautiful combination of theologies once and for all -- enduring these many centuries since Cranmer's lifetime. Our theological founder, John Wesley (1703-1791), found the majority of his theology in the "Homilies" (the sermons) of Thomas Cranmer. They're all still available, and with a little digging you can find them if you're interested. Our pastor has copies of Cranmer's Homilies.
So, all these words would be true of us, we are:
Christian
Trinitarian
Protestant, and
Wesleyan
You may be interested in how John Wesley put all this together for the Methodists. Please check out Pastor Mike's paraphrase of one of John Wesley's most important sermons here:
Some interesting practices: Anglicans call their ministers "priests" just like the Catholics. We United Methodists do not use the word "priest". We prefer "pastor" – a word originally from agriculture and ranching, which simply means shepherd. However, just as with Episcopalian clergy, some United Methodist clergypersons choose to wear a Roman collar during their daily rounds. It is their choice to do so, or not to do so. Spokane Valley UMC has had in the past clergypersons who wore the Roman collar. And someday in the future, one of our pastors may choose to do this. No biggee either way.
---
Two Sacraments
The Church of England split off from the Roman Catholic practice of observing seven Sacraments, choosing only the two which Martin Luther prescribed, Holy Communion and Baptism. The United Methodist Church also observes two Sacraments, Holy Communion and Baptism. Pertaining to Holy Communion, the United Methodist Church believes the same as the Anglican and Lutheran Churches – that there is not "transubstantiation", but rather in Holy Communion there is "consubstantiation" – the bread remains bread, and the grape juice remains grape juice, but both bread and juice convey the "real presence of Christ."
The Church of England joined the Lutherans in continuing the Roman Catholic practice of baptizing people of all ages, including infants. Therefore, we United Methodists also baptize people of all ages, including infants. This makes us different from denominations which practice only "believer-baptism" or adult baptism. John Wesley believed he had Scripture on his side on this – that the Bible teaches that the early church (the church in the New Testament Book called "Acts") baptized persons of all ages, including infants; and that the early church baptized not just by immersion or dunking, but also by sprinkling, pouring, or by use of whatever water was on hand. Wesley's Bible study on Baptism is available from Pastor Mike. What do you think? We modern United Methodists stand with John Wesley on this.
The Church of England followed the Roman Catholic practice of inviting our youth's participation in the "Rite of Confirmation" for those who were baptized as children (prior to the time their own reasoning minds could think the faith through for themselves). We United Methodists also invite "Confirmation" for those baptized as infants and children, and we offer this class prior to membership in the congregation.
---
A Big World-Wide Family, 74 Wesleyan Denominations
The United Methodist Church is one of approximately 74 "Wesleyan" denominations world-wide. "Wesleyan" means we trace our origins back to 18th Century England, to the movement of God launched through the brilliant and tireless efforts of John Wesley, his brother Charles Wesley, and their friends. Other denominations in our family tree include the Nazarene Church, the Free Methodist Church, the African Episcopal Methodist Church, the Swedish Covenant Church, and many more. You can read up on our history and find out more about our denomination here:
---

A People of Three Books
We are a people of three books. Here they are, in order of importance:
First in importance, The Bible is our authority for preaching, teaching, faith and practice. Both Testaments, Old and New – the Hebrew Scriptures and the Christian Scriptures. The Bible is Canon for us, meaning: authority. It is infallible in all that it seeks to communicate to us. Its primary function is to be the infallible, and inexhaustible written Word of God. We do not teach "inerrancy" here (a belief that the Bible, in the original manuscripts, was perfectly dictated by God and has no errors), but if individuals hold to inerrancy they are welcome to do so. We don't argue about such things. The Bible's witness is to the Word of God, Jesus Christ – the Old Testament witnessing to him in expectation, and the New Testament witnessing to him in recollection. Jesus Christ is the living Word of God, and through the Holy Spirit, he brings the Bible to life, both for individuals and for the church family as the living Body of Christ.
Second in importance, The Hymnal is our primary Bible-interpretation-teaching-text. It is our inspiration, our catechism, our guide of instruction. We now include many worship songs on video screens and songbooks which are not in the physical Hymnal. (So, we're using the word "Hymnal" inclusively here.) Nevertheless, the Hymnal (plus songs) is the next book after the Bible with real authority in the life of our church.
The early Methodists taught the faith through singing. Charles Wesley, John's brother, was a brilliant poet – publishing over 6,000 hymns in his lifetime. The Hymnal delivers the entire grand vision of what the Christian life can be. The hymns of Charles Wesley especially are the most important for teaching the faith today. John Wesley's theology combined with his brother Charles' poetic gift helped to establish the growing Methodist movement on a foundation of highest and best Christian faith and practice.
A United Methodist preacher today will choose as many Charles Wesley hymns as possible, and will often include elements of the theology of these hymns in his/her sermons. Methodists still learn by singing.
Third in importance, The Book of Discipline. In the early days there were a few distinguishing marks which made the Methodists a little different from everybody else. One of these was our discipline and our connectedness to one another. An important book for us today is called "The Discipline".
John Wesley wrote a little book of discipline for the early Methodists. It started out as the "Minutes of Several Conversations" that Wesley had with during his "Conferences" with his Lay Preachers. Wesley himself preached over 40,000 sermons during his lifetime. No less than 15 sermons per week most weeks. What started as just a "Holy Club" for a few like-minded Oxford students, grew until there were 54,000 Methodist Christians in the U.K. in 1791, the year of Wesley's death. A structure, an organization, was needed – and this was Wesley's forte. John Wesley was an organizational genius. "Discipline" was his strength.
Wesley believed every decision should come from a process of conferring together, or (as we Methodist say) "conferencing". Wesley's Minutes included best practices for preaching and worship, instructions about how to sing hymns, how to stay healthy while riding a horse many miles in between preaching stations, and rules to keep for maintaining high standards of integrity. Eventually a book was published to collect all these rules in-between two covers. Then after Wesley's death as new issues emerged, new rules had to be created. Wesley's method of "conferencing" became church law. That's why at Spokane Valley United Methodist Church we have an "All Church Conference" at least once a year. Our life as a church depends on it.
The United Methodist Church brings out a new edition of Wesley's "Book of Discipline" once every four years at our General Conference. So there is a "Book of Discipline" for 2008, 2012, and there'll be a new one for 2016.
Virtually everything that happens in a United Methodist Church is covered in the Book of Discipline. How we make decisions, how we handle personnel issues, how we maintain healthy boundaries, what do to when things go wrong. (Copies are available in our church Library.)
One thing that always takes some folks by surprise is what the Book of Discipline says about how we get a new pastor. As the Book of Discipline sets forth, when there is to be a pastoral change, the Staff Parish Relations Committee of Spokane Valley United Methodist Church works with our District Superintendent to convey to our Bishop what we need in our next pastor. The decision about who comes to be our next pastor is the Bishop's to make. The Bishop has the "power of appointment." Our pastor is appointed by a Bishop.
We hope this brief discussion of our beliefs has been helpful. Please know that Pastor Mike loves to talk about all this stuff! Why not join him on an "Early Conversations" evening (read below), and thank you for spending time with us today!
---
Early Conversations Evenings
"Early Conversations Evenings for Newcomers and Visitors", most last Sundays of the month from 6-7:30PM, with Pastor Mike. In the Fireplace Room. Upstairs, far south end of our two-story Education building. Lights will be on!
No commitments, no strings attached. Just 90 Minutes of fun conversation for newcomers, coffee and cookies. What's this church all about? What do we believe and teach? Whether you've been coming two weeks or two years, you're invited. (Nursery care available, please let Mike know if needed.)
"I hope to see you there. Welcome!" Mike Graef